If you're a fan of honey, butter, garlic, and soy sauce, then you'll surely love this easy recipe. It has a similar taste to my garlic noodles! It's a combination of sweet and savory like honey-butter biscuits or chicken and waffles. If you decide to toss it with popcorn chicken and let it cool down, it tastes almost like a candy coating. It's addictively delicious.
I've made this so many times, and I usually toss it with my fried wings or thighs, but this time I tossed it with some Tyson's popcorn chicken for an easy meal!
I also imagine it would taste wonderful tossed with crispy potatoes or sweet potatoes!!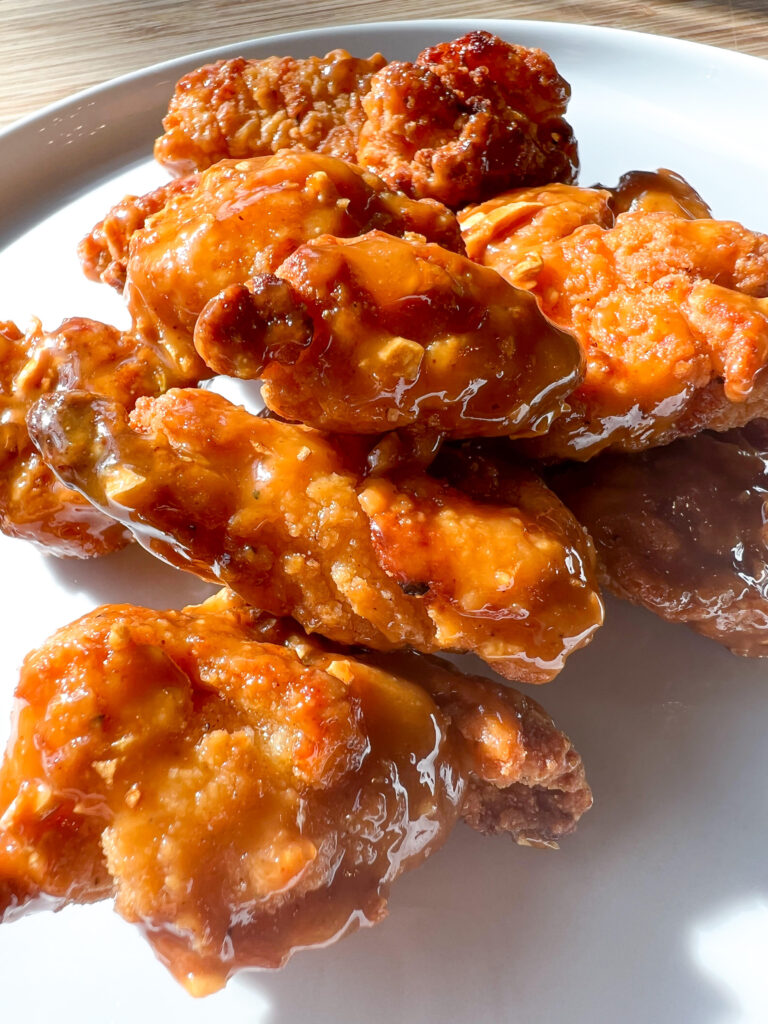 Honey Butter Soy Sauce
Description
This is a delicious sweet and savory sauce that can be tossed with homemade fried chicken or pre-made popcorn chicken! It just takes a few minutes on the stovetop.
Ingredients
For the chicken: air-fry 4 servings of Tyson's popcorn chicken (or your favorite)
Instructions
Set saucepan on med-low heat. Melt butter and then add garlic. Cook and stir for 2-3 minutes until garlic turns slightly golden on the edges.
Add soy sauce, brown sugar, and honey. Continue to cook and stir for about a minute.
Turn off heat. Add cooked popcorn chicken, toss, and enjoy!
Video
Notes
Feel free to toss with homemade chicken or pre-cooked frozen popcorn chicken! I bet it would also taste amazing with crispy potatoes or sweet potatoes!
honey butter soy sauce, honey garlic, honey butter, fried chicken, sauce, honey butter chicken