Pickled Veggies – Do Chua are typically served with bun thit nuong (vermicelli bowls) and banh mi (Vietnamese baguette sandwiches). They can also be eaten with crispy egg rolls. Vietnamese restaurants will typically serve crispy egg rolls with lettuce and pickled veggies, so you can make a wrap, and then dip it in nuoc mam! These pickled veggies are crunchy, sweet, and tangy which perfectly balances everything out.
For this recipe, we are using carrots and daikon. I used this kiwi peeler to julienne the vegetables. The strips are probably in between the size of julienne strips and shredded veggies.
You'll want to make this a few times and figure out what ratio you like best. For this recipe, I am using equal amounts of sugar and vinegar and double the amount of water. If you want a stronger flavor, reduce the amount of water. If you want it tangier, increase the vinegar.
Since we boil the water to dissolve the sugar, you can consume the veggies about 30 minutes after making them instead of waiting overnight. The flavor will continue to get stronger though. You can refrigerate these and enjoy them over the next couple of weeks.
The store didn't have any white daikon, so I used green daikon for these pickled veggies, and it tasted just fine!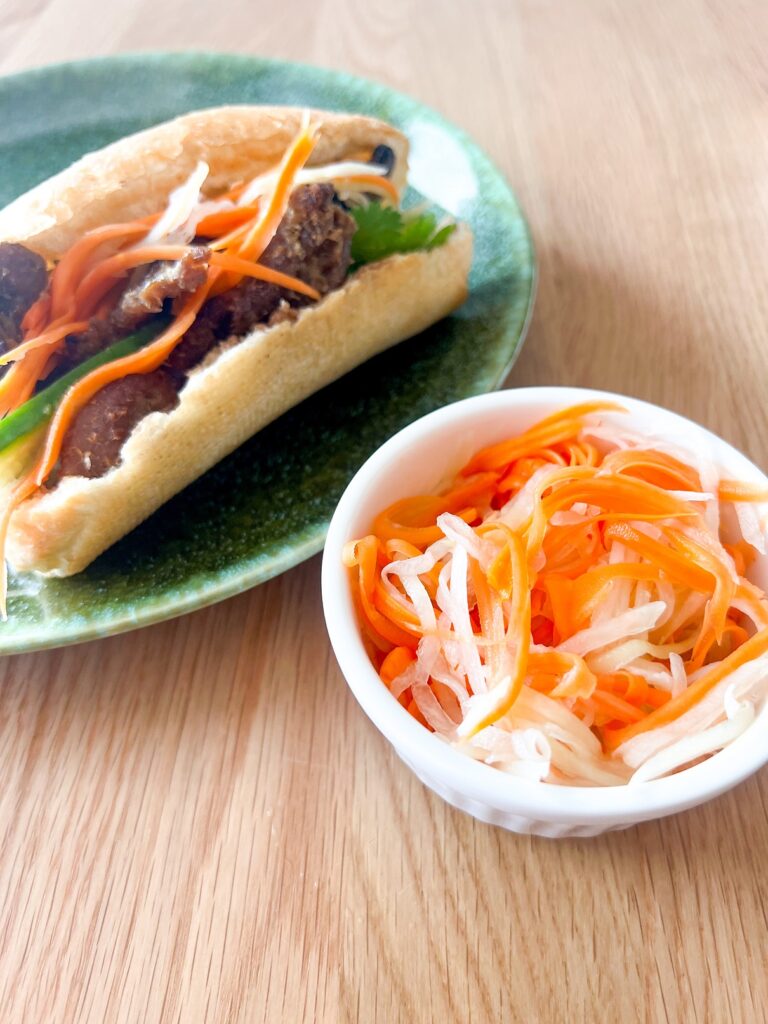 Pickled Veggies – Do Chua
Description
Carrots and daikon are pickled to create a crunchy, sweet, and tangy condiment that goes well with Vietnamese vermicelli bowls and sandwiches.
Instructions
Place cut veggies in a glass container with a lid.
Boil water, sugar, and vinegar. Pour the hot mixture over the veggies, and make sure everything is submerged. Taste and adjust seasoning. If you prefer it more tangy, then add more vinegar.
Let it cool down. Serve after 30 minutes or close the lid, refrigerate, and enjoy over the next 2 weeks.
Video
do chua, pickled vegetables, vietnamese pickled veggies