Pho Ga is Vietnamese chicken noodle soup for the soul. It's easier and quicker to cook than it's beef counterpart but still delicious and satisfying.
For this pho ga recipe, I poach an entire free-range chicken for an hour to release all of its goodness to create an amazing broth. Free-range chicken will likely be labeled brown chicken at the Asian market. Not only does it have more flavor, but the skin doesn't fall apart after poaching. I love dipping the pieces of chicken into a sauce made of lime juice, salt, and pepper.
In regards to the spices, some people prefer to keep the spices more simple for chicken pho compared to beef pho. In my family, my dad uses all the spices for both. So it's up to you if you want to use fewer spices.
For the noodles, I prefer to use the fresh noodles below.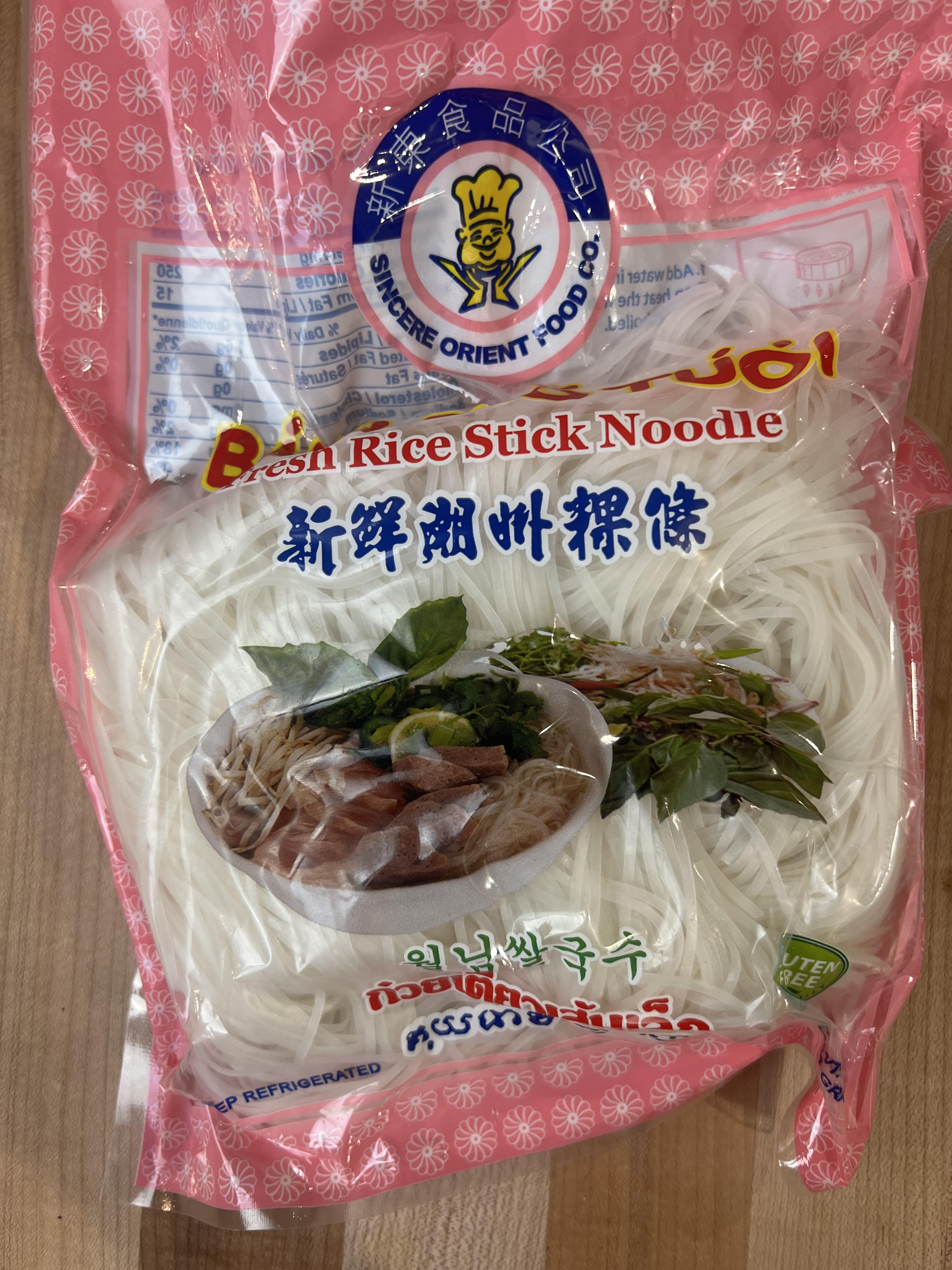 It will be in the refrigerated section at your Asian market. It only takes about 10 seconds in boiling water to cook. Go ahead and divide the noodles into individual bowls right after cooking. If you don't, you'll have a tough time separating them later as they stick together. It's okay if they are sticky in their own individual bowls as the hot broth will loosen them. If you can't find fresh pho noodles, you can use dried rice noodles.
For the broth, I used Legend's 8 qt stockpot, and for the noodles, I used the 3.4 qt.
Other soup recipes:
Banh Canh: Vietnamese "Udon" is made with simmering pork bones and served with chewy noodles, fresh herbs, and fragrant crispy shallots.
Wonton Egg Drop Soup: Wonton Egg Drop Soup is one of the many variations you can make with this basic egg drop soup recipe.
Canh Chua: Canh Chua is a Vietnamese Sour Shrimp Soup that is also sweet and spicy, although the spice is optional!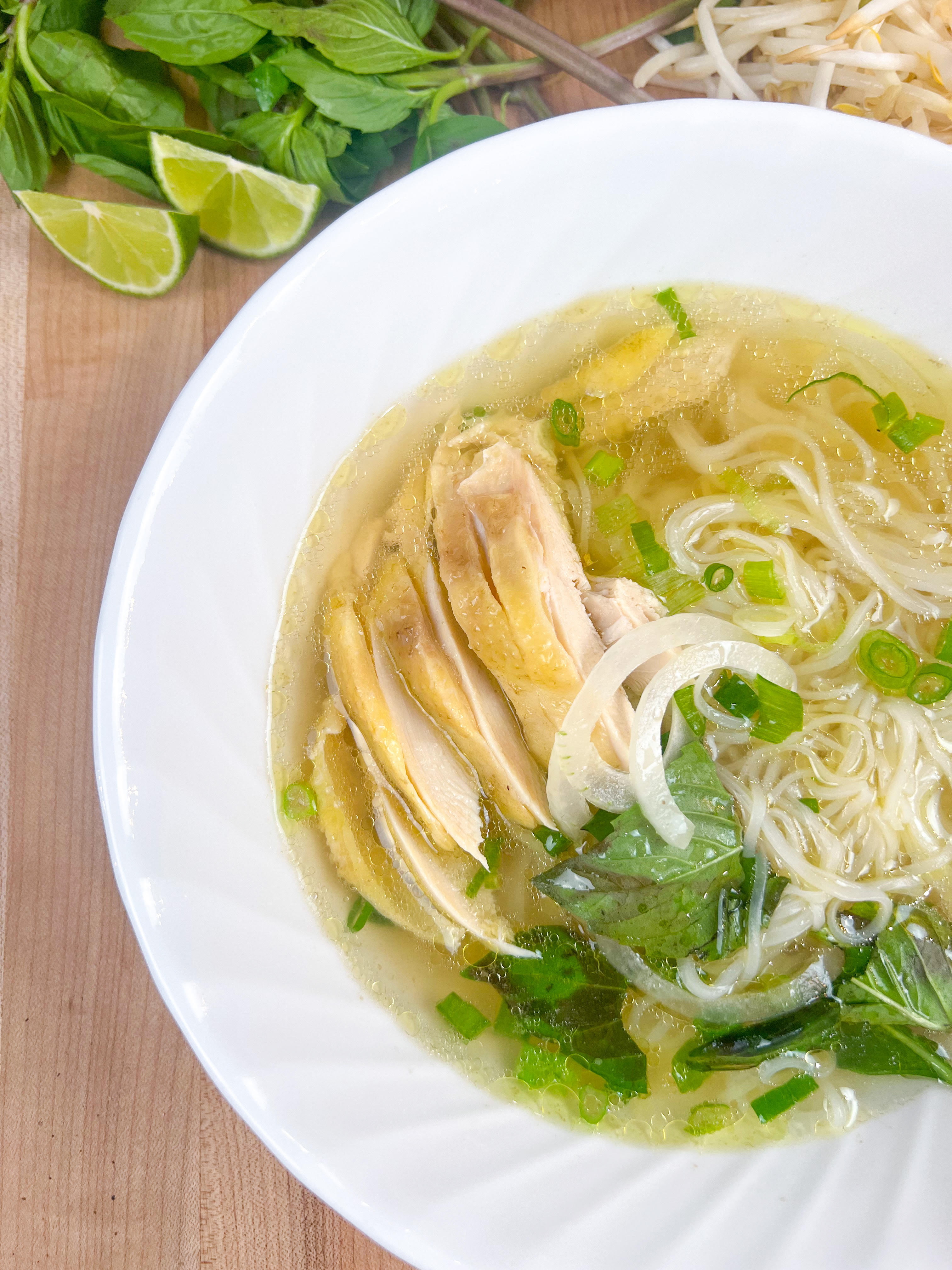 Pho Ga (Vietnamese chicken noodle soup)
Description
Pho Ga is Vietnamese chicken noodle soup for the soul. It's easier and quicker to cook than it's beef counterpart but still delicious and satisfying. 
Ingredients
Spices:

Aromatics:

Broth:

To serve: 
Instructions
Roast the spices (10 minutes) and ginger & onion (25 minutes) at 380F.
Place whole chicken into a big stock pot and cover with water. Turn heat on high and bring to a boil. Add chicken and mushroom bouillon powder along with rock sugar and half the amount of salt.
Remove spices after 10 minutes and place them into a spice ball or tea bag. Add to the pot. Continue roasting onion and ginger for another 15 minutes.
Scoop out the scum throughout the cooking process to keep the broth clear. Once it boils, turn down the heat to medium. 
Add onions & ginger to the pot once they're finished roasting. 
Remove the chicken after 1 hour of simmering, set aside and cut or shred when it's cool enough to handle. To remove the chicken easily, stick one part of the tongs all the way inside the cavity, and slowly lift it while letting the broth pour out. Shred or cut once it's cool enough to handle. 
Remove the spices and aromatics. Skim any scum left in the pot. Taste and adjust for seasoning. The amount of salt and fish sauce will depend on how much water has evaporated. 
Arrange cooked noodles into individual bowls right after it has been cooked since they tend to stick together. It'll loosen up with the broth. Ladle broth over noodles, top with chicken, and onions. Serve with bean sprouts, herbs, lime, hoisin, and Sriracha. 
Video
chicken noodle soup, pho ga, vietnamese soup