Celebrate the new lunar year with Thit Kho Trung! Thit = meat, Kho = braised, Trung = egg
Thit Kho (Vietnamese braised pork) can be cooked on the stovetop for 1.5-2 hours or in a pressure cooker for 30 minutes! It's savory with a hint of sweetness. Some families like it more savory while others like it to be sweeter. This recipe is right in between, so feel free to adjust. It's usually served with pickled veggies, like mustard greens, and rice to balance out the richness of the dish.
Back in Vietnam, people would make it extra flavorful and fatty, so that people would eat more rice than meat. The reason for doing so was that rice was much cheaper than meat! Doing this could help feed a family on a budget.
For this dish, you will make caramel and not the creamy kind for desserts. It's sugar that is almost burnt to create beautiful color and add complexity to the dish. I also add something that isn't authentic for extra color and that is dark soy sauce! I started doing that when I moved out of my parent's house. Shh don't tell my mom! Sometimes I would use the Indonesian dark sweet soy sauce too. I also add mirin to the dish which is also not authentic to Vietnamese cooking. I find it adds a pretty glossy finish to the dish. My mom says she uses lime juice for a similar effect.
My mom also taught me to make this dish with coconut soda which is called Coco Rico, but I usually make it with coconut water now. When you use soda, you will want to add less sugar to the dish.
A photo of some of the ingredients is below. If you don't live near an Asian store, you can order ingredients from Sayweee! If you use my link, you can get $20 off your first order.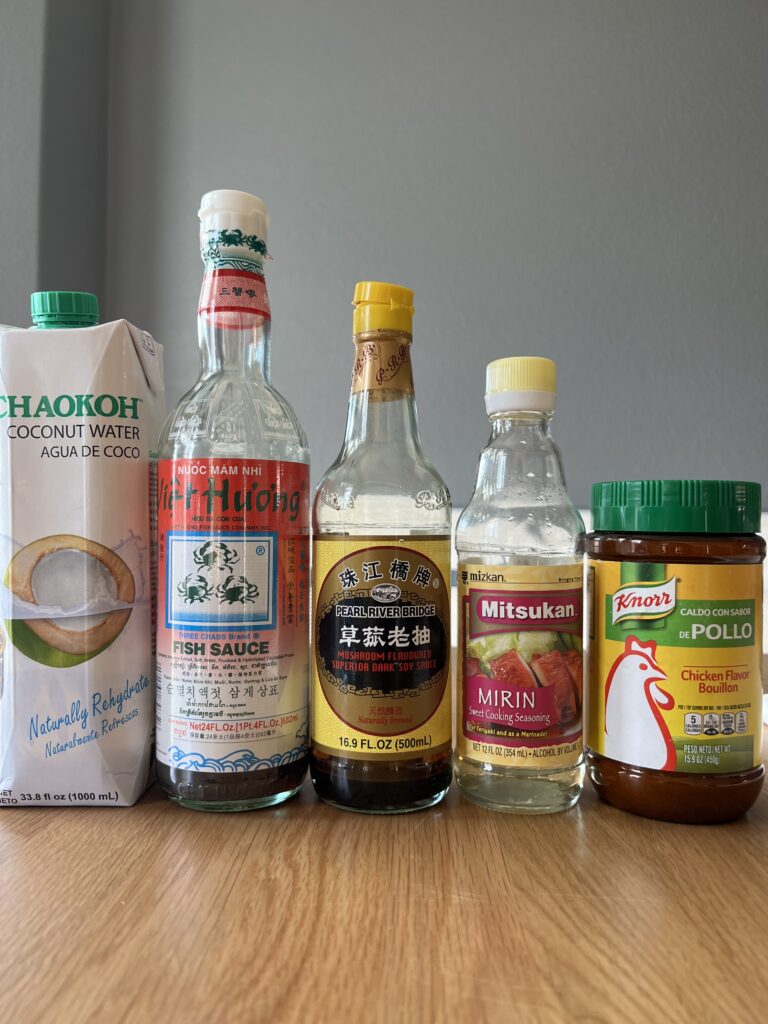 So this recipe instructs you to pressure cook for 30 minutes which creates a tender bite with a little chew. So depending on your preference, you can adjust the pressure cooking time by 5 minutes.
You might be tempted to skip the parboiling of the pork, but then your sauce will come out murky, so that's up to you. Vietnamese people tend to take lots of pride in making their sauces/broths clear, and you'll especially see this with Pho! I might have skipped it a couple of times when I needed something quick. 🙂
Instant Pot Thit Kho
Description
Pork belly/shoulder/butt is braised to create a savory, sweet, and fatty bite to go perfectly with white rice and pickled veggies. It's a perfect way to celebrate the new lunar year!
Ingredients
Marinade

For caramel (gives pork color and caramel notes)
Instructions
Parboil pork by bringing a pot of water with pork to boil for a couple of minutes. Remove any scum that floats to the surface of the pot. Strain the pork. Rinse each piece individually under water to clean. This helps create a clear sauce.
Combine marinade in a bowl with pork. Try not to get water in the marinade from rinsing the pork. Let it marinate while you caramelize the sugar in the next step.
Turn pressure cooker on saute mode. Pour sugar into the pot and then drizzle the water on top of the sugar. It will take 10-12 minutes for it to caramelize.
Once the sugar turns a burgundy color, add the pork, and give it a stir. Then add coconut water, fish sauce, and mix. High-pressure cook for 30 minutes for tender pork.
Vent the cooker (away from your face) to release the pressure/steam. Open the lid, add 1-2 cans of quail eggs or your peeled cooked chicken eggs. Push them down gently to submerge them in the sauce. Turn on the saute mode to continue cooking for 15 minutes. You can cook it more or less depending on how much flavor you want. The more you reduce the sauce, the more flavorful it will become. Don't mix the pork too much at this point. It's tender which means the pork and fat can start falling apart and will cloud your sauce.
Serve with rice and pickled veggies for balance.

For the stovetop, just follow the instructions above and cook on med-low for 1.5-2 hours.
Video
thit kho, braised pork, vietnamese pork belly