Air-fried sesame chicken is so crispy that people will believe it's deep-fried! It's sweet, savory, and crispy! If you can find skin-on boneless chicken thighs, that's even better! I used skinless chicken thighs, which is a little more difficult to crisp up, but I still did it!
The secret is the coating and leaving it in the fryer for a longer amount of time. Since it is cooked longer, you'll want to use dark meat and bigger pieces, so they don't dry out. I used a combination of tapioca starch, corn starch, and all-purpose. If you don't have tapioca starch, you can use corn starch and all-purpose.
I used both my Cuisinart and Ninja air-fryers for this recipe. It took a little longer to crisp up in my Ninja since my Cuisinart runs at a slightly higher temperature. Both came out delicious. The Cuisinart tray is more difficult to clean, so be prepared!
Serve this air-fried sesame chicken with a side of steamed broccoli and rice!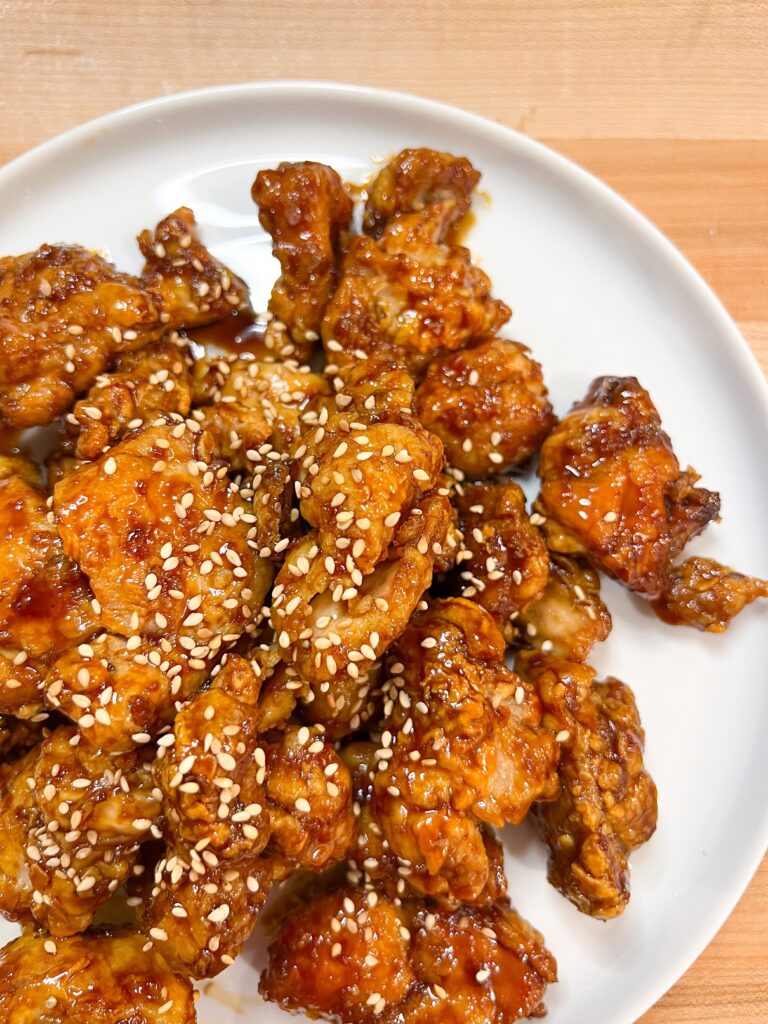 Air-fried Sesame Chicken
Description
Air-fried sesame chicken is coated in different starches, air-fried, and then coated in a sweet and savory sauce!
Instructions
Combine the starches/flour together in a bowl. Coat chicken pieces in egg wash and then flour mixture. Lay the coated pieces out on a plate.
Air-fry in small batches (5 pieces) if you have a bucket air-fryer. Cook between 15-22 minutes at 400F until crispy. If you have an oven-type air-fryer, like a Cuisinart, you can cook more at a time, but leave a little space in between pieces. Cook for about 15 minutes until crispy. My Cuisinart runs at a higher temp than my Ninja. 
Mix together ingredients for the sauce in a small pot and heat on medium. Mix together the corn starch and water. Pour into the sauce while whisking. This thickens the sauce. Once it has thickened enough to coat a spoon, turn off the heat. 
Toss chicken with the sauce. Sprinkle on toasted sesame seeds. Serve with steamed broccoli and rice. 
Video
sesame chicken, air-fried sesame chicken, air-fryer chicken