Bánh Xèo (Vietnamese Sizzling Crepe) is thin, crispy, and garnished with herbs and dipped in a delicious sauce. It is a beautiful marriage of flavors and textures. You can eat it wrapped in lettuce or rice paper! Each region of Vietnam prepares theirs differently, so if you ask 10 Vietnamese people how they prepare it or eat it, you'll likely get 10 different answers.
This traditional Vietnamese dish gets its name from the sizzling sound it makes when the batter mixture hits the hot pan. With my recipe, these Vietnamese crepes are made with a crispy batter and stuffed with shrimp, pork belly slices, mung beans, and bean sprouts. After being wrapped in fresh lettuce, the crepe is dipped in Nước Chấm, a tangy dipping sauce, and garnished with aromatic herbs.
It can seem intimidating to make this Vietnamese crepe from scratch, but with a little bit of practice, you can get the most amazing crispy texture! Over the years, I've tested MANY different batters. Rice flour, tapioca starch, corn starch, all-purpose flour, club soda, baking powder, vodka, chilled batter… Many people even swear by club soda because it adds little bubbles to help with crispness, but I don't really notice too much of a difference.
When making these crepes, the major factors are as follows:
types of flour/starches
cooking temperature
cooking time
I recommend using the Sing Kung's Bánh Xèo flour mixture when making Banh Xeo (Vietnamese sizzling crepe). You can usually find this brand at your local Asian grocery store and online; I get mine from 99 Ranch. It is the best batter mixture I've ever used because it's a mix of different flours and starches, but I still like to add a little bit more corn starch to get the extra crispness.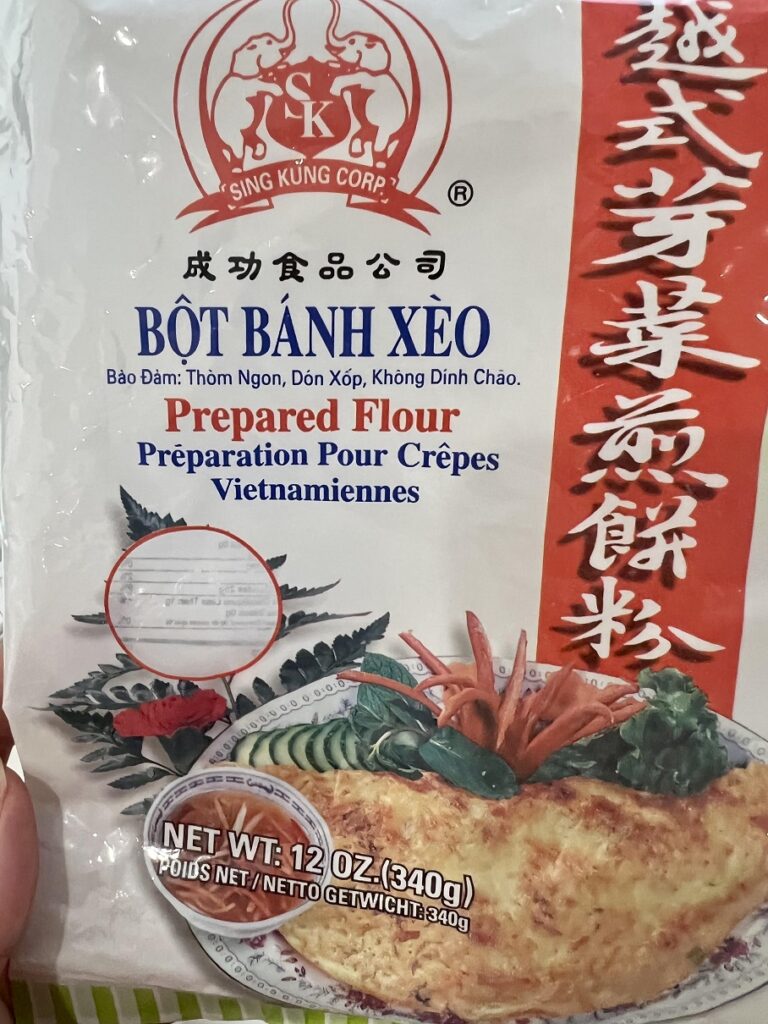 Too much corn starch can make it rubbery though, so I don't recommend using just corn starch. If you can't find this brand, you can make your own by mixing the ingredients below:
3/4 cups rice flour
1/4 cup + 2 tbsp all-purpose flour
1/4 cup corn starch
1 3/4 cup water
1/2 cup canned coconut milk
For gluten-free, use:
3/4 cup rice flour
1/2 cup tapioca starch or corn starch
3/4 cup water
1 cup canned coconut milk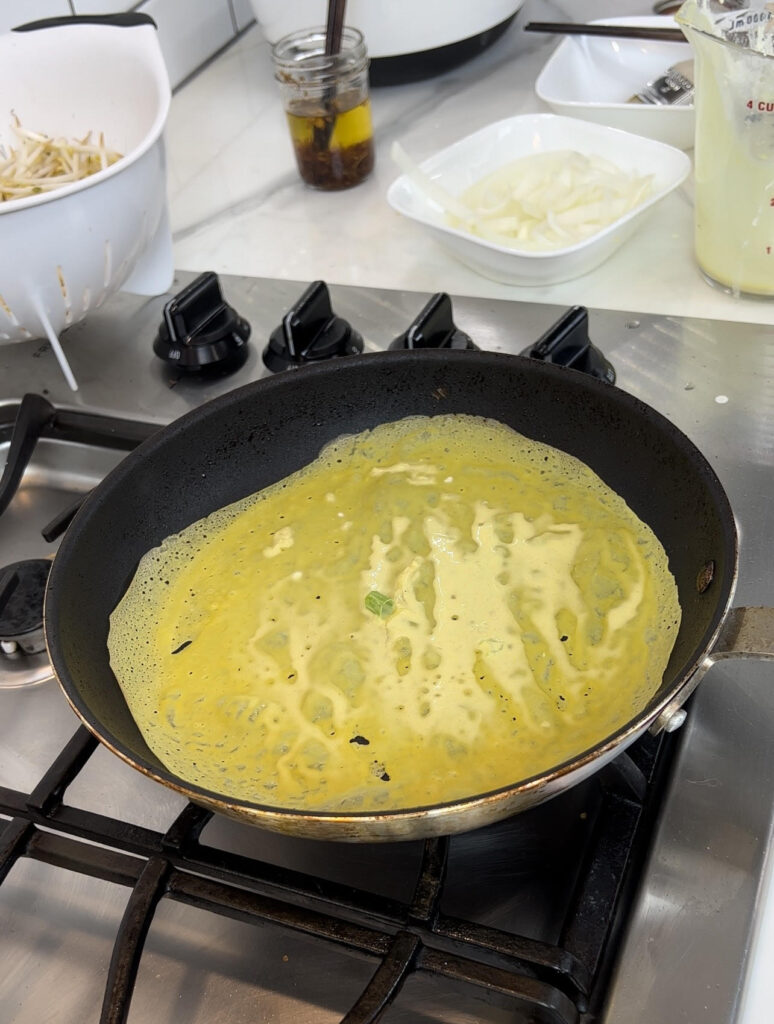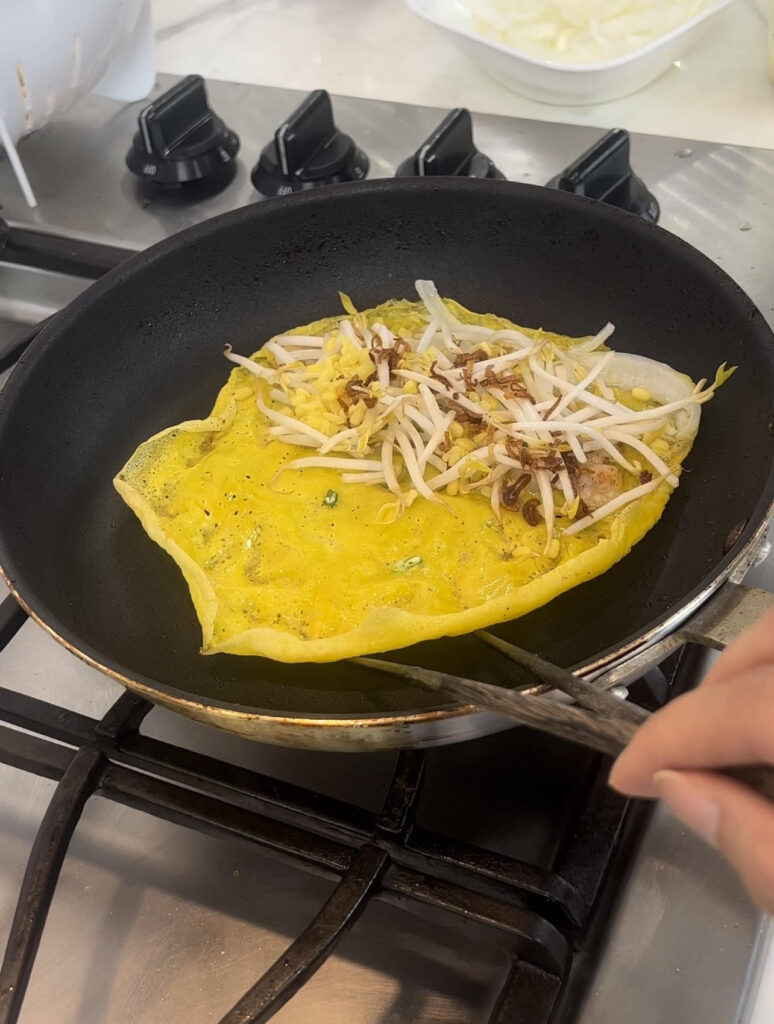 Important Notes:
The right batter, the correct temperature, and the appropriate cooking time are all necessary for a crispy Bánh Xèo.
Adding the extra corn starch helps it stay crispy!
Start by cooking just the batter to get a feel for your stove and find the ideal temperature for your crepes. Once you can get the batter crispy to your liking (about 8 minutes), then you can make the first crepe.
The temperature I use is just a little higher than medium temperature.
While it is necessary to cook it at a temperature high enough for it to become crispy, it should not be overheated to the point where it burns before crisping up.
My magical cooking time was about 8 minutes. I took one off at 6 minutes, and it didn't stay as crispy. It's not a problem if you're going to eat it right away, but if you're going to batch cook, leave it for 8 minutes. This will ensure the banh xeo stays crispy even an hour later!
---
More Vietnamese Recipes:
BANH CANH – A DELICIOUS PORK NOODLE SOUP WITH CHEWY NOODLES
BUN THIT NUONG – "GRILLED" LEMONGRASS PORK WITH VERMICELLI NOODLES
CHA GIO – CRISPY PORK EGG ROLLS SERVED WITH NUOC MAM
---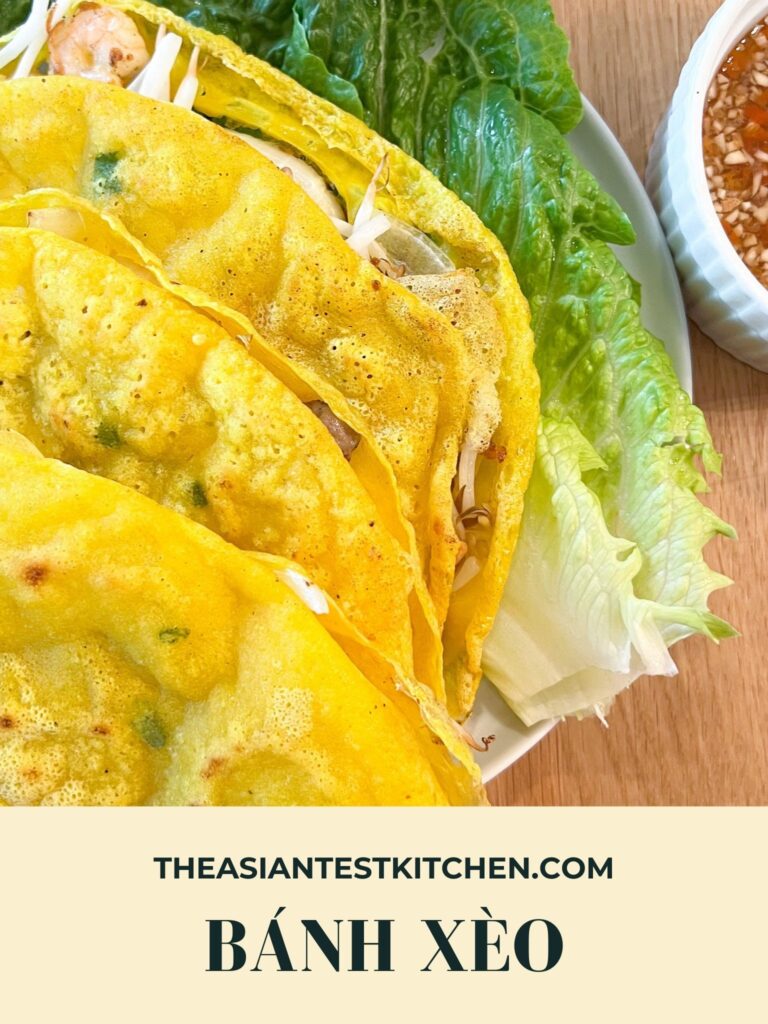 Bánh Xèo (Vietnamese Crepe)
Description
Bánh Xèo (Vietnamese Sizzling Crepe) is thin, crispy, and garnished with herbs and dipped in a delicious sauce. It is a beautiful marriage of flavors and textures. You can eat it wrapped in lettuce or rice paper!
Ingredients
Batter

Pork

Shrimp 

For frying

To serve
Instructions
Prep

Soak mung beans overnight.
Marinate your proteins.
Wash sprouts, green lettuce, and mint. Slice onions. 
Prepare Nước Chấm.
In a small saucepan, place soaked mung beans. Add just enough water to cover the beans. Bring to a boil, then reduce to low heat and cook until the water has evaporated and the beans are tender. If you prefer, you can cook the beans in coconut milk.
Prepare the batter according to the package and add extra corn starch. This will make it extra crispy.

Cook (remember to practice with just the batter first!)

Heat your favorite non-stick pan between medium and medium-high (closer to medium) for 2 minutes to get it hot. Have everything set to the side and ready to go!
Add a small amount of oil to the pan, then place 3-4 pieces of pork on one side of the pan. Cook for 30 seconds on all sides, then add onions and 2-3 pieces of shrimp to the same side of the pan.
Using a ladle or measuring cup, gently mix the batter, then pour some into the center of the pan and swirl until it completely covers the pan. This will take some practice, so don't be surprised if you don't get it right away!! You can practice without the filling.
Once the edges start to crisp and lift away from the pan, drizzle oil down the edges of the pan.
Once the batter becomes solid enough to handle, lift up one side and add a generous amount of oil making sure to get some in the center. Do the same on the other side. Give the pan a little shake to ensure even coverage.
After about 5 minutes, the crepe should have a decent crisp. If not, turn up the heat SLIGHTLY! You'll be tempted to turn it really high, but it will burn before it crisps. Add bean sprouts, mung beans, and fried shallots.
After about 8 minutes, the crepe should be perfectly crispy. I'm talking crispy enough to stay crispy an hour later. If not, continue playing around with the temperature.
Transfer a plate, break a piece of, wrap it in green lettuce, add some mint, and enjoy with Nước Chấm. You can also wrap it in soaked rice paper!
Video
Notes
The best way to reheat banh xeo is to air fry them! Also, if you're not able to get it crispy enough, just pop them in the air fryer before serving.
Nước Chấm, Bánh Xèo, Vietnamese Crepe, sizzling crepe