In my last egg video (Korean Marinated Eggs), I said I wanted to create an Eggs Around The World series, and you guys really delivered with all the recommendations. You're the best!! Seriously!
This was so fun and satisfying to make and eat! I tested two different batches – one with five spice powder and one with the whole spices (star anise, ginger, and cinnamon). I definitely prefer the whole spices because the flavor was so much stronger. It really blew me away!
I like to soft boil my eggs, so I used a pasta pot to lower the eggs into the pot! I like to think I invented this method since I've never seen anybody else do it before haha. But then again, I also thought I invented the "live, laugh, love" phrase, and my cousin teases me about it. Don't steal my thunder!! LOL. Anyway, using a pasta pot prevents any cracking! And since all the eggs go in at the same time, then all the eggs are soft-boiled to PERFECTION!!
Just promise me you'll try it at least once. 🙂 And if you use the method, please tag me! 🙂 If you want to use a re-usable marinating bag instead of a plastic one, here's the one I have: marinating bag.
Oh and normally, I like to leave my eggs in the fridge for a week before soft-boiling them since they'll be easier to peel that way! For this recipe, you don't need to do that since you're marinating the eggs in the sauce!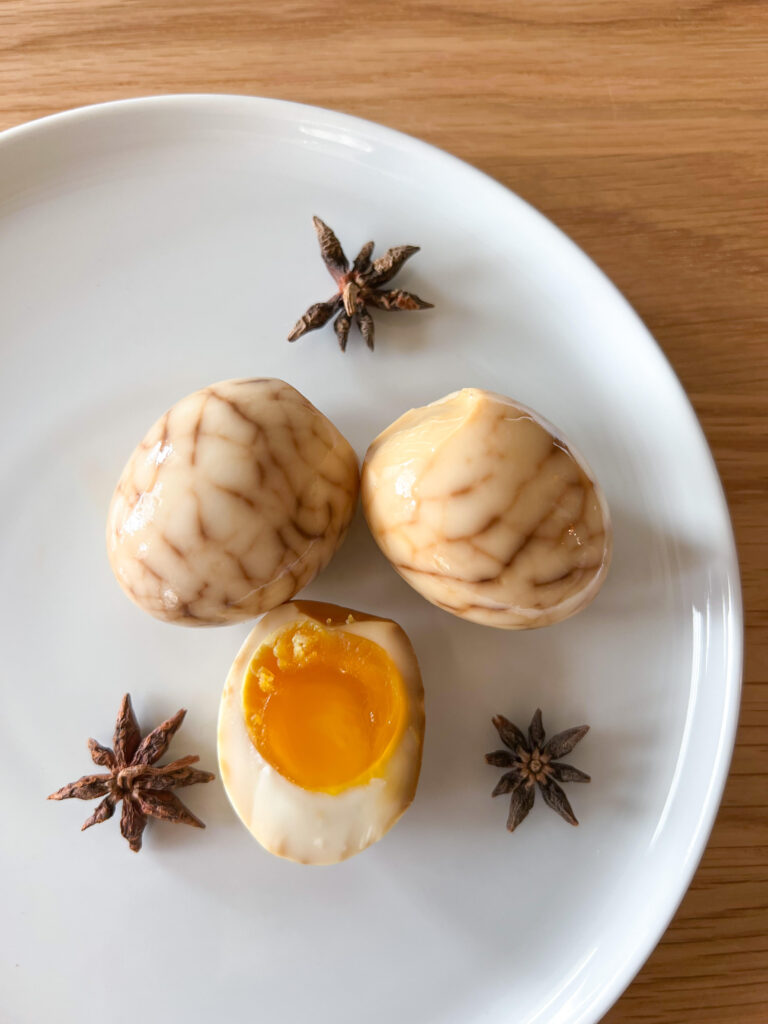 Chinese Tea Eggs
Description
These Chinese tea eggs aka dragon or marbled eggs are so fun to make. You soft-boil the eggs, crack them, then marinate them in the sauce overnight, and then peel and enjoy the next day with some rice!
Ingredients
Soft-boiled eggs:

Marinade
Instructions
Take eggs out of the fridge for one hour.
Boil water in a pasta pot or big pot.
Toast the spices in a saucepan on medium heat for one minute. Add the rest of the ingredients for the marinade. Bring to boil then lower to simmer for 3 minutes. Turn off the heat, discard the tea bag, and let the sauce cool.
Prepare an ice bath for the eggs.
Place eggs in the pasta strainer and gently lower eggs into the boiling water. Cook for 6 minutes for soft-boiled eggs. If you don't have a pasta pot, use a big ladle to lower the eggs in gently.
Place the eggs immediately into an ice bath, so that the eggs don't overcook.
Once the eggs are cool enough to handle, crack the eggs gently with a spoon. If you do it too little, then there will be little marbling effect, but if you do it too hard then you'll get big dark spots. I had it all, but they were still super tasty.
Once the marinade is cool, add it to your re-usable marinating bag (link above), and then add your eggs. Leave overnight. Try flipping the bag over halfway through the marinating process so they marinate evenly.
Peel the eggs the next day, do a little dance, and enjoy with rice!! If you don't eat it with rice, you might want to use low-sodium soy sauce instead.
Video
Notes
You can re-use the sauce the next day to stir-fry vegetables or noodles since you're re-heating the sauce that way. I wouldn't keep it for very long though!
Chinese tea eggs, dragon eggs, marinated eggs, asian eggs, marble eggs, star anise, five spice