You will find these delicious Vietnamese Egg Rolls at almost every house party! It might sound strange, but when I was younger, these crispy egg rolls made me proud to be Vietnamese. Every person who tried my mom's egg rolls for the first time ooohed and aahed and always wanted more!
They're different than the cabbage-filled Chinese egg rolls. The filling inside of these is made of pork, veggies, and noodles. The outside is also different. Chinese egg rolls are typically made with a more doughy wrapper that becomes bumpy when fried. These are smooth, thinner, and have more of a crackle when you bite into them.
I always helped peel the wrappers apart and roll the egg rolls for house parties, and my mom would fry them in the garage or outside so the house wouldn't smell. It's one of those things that is worth eating right away and burning your mouth! Hah! We would usually save a batch and deliver them to our best friends, Frankie and Randy, down the street. It's a memory forever etched in my brain.
The photo below shows the wrapper we like to use. It's smooth and super crispy! The woodear mushrooms are in the middle. These were fresh from the online Asian store Saywee! You can also get them dried at the Asian grocery stores. Be sure to cut out the tough part. Also, give the dried mushrooms and noodles a soak for about 15 minutes before using. The item on the right is the bean thread or vermicelli noodles. These are different than the ones in vermicelli bowls. The ones for egg rolls are translucent. You want to look for the words "bean thread", "lung kow," or look at the ingredient list for mung bean. All of these were purchased from Saywee! They were delivered in two days! You can use my link for $20 off your first order.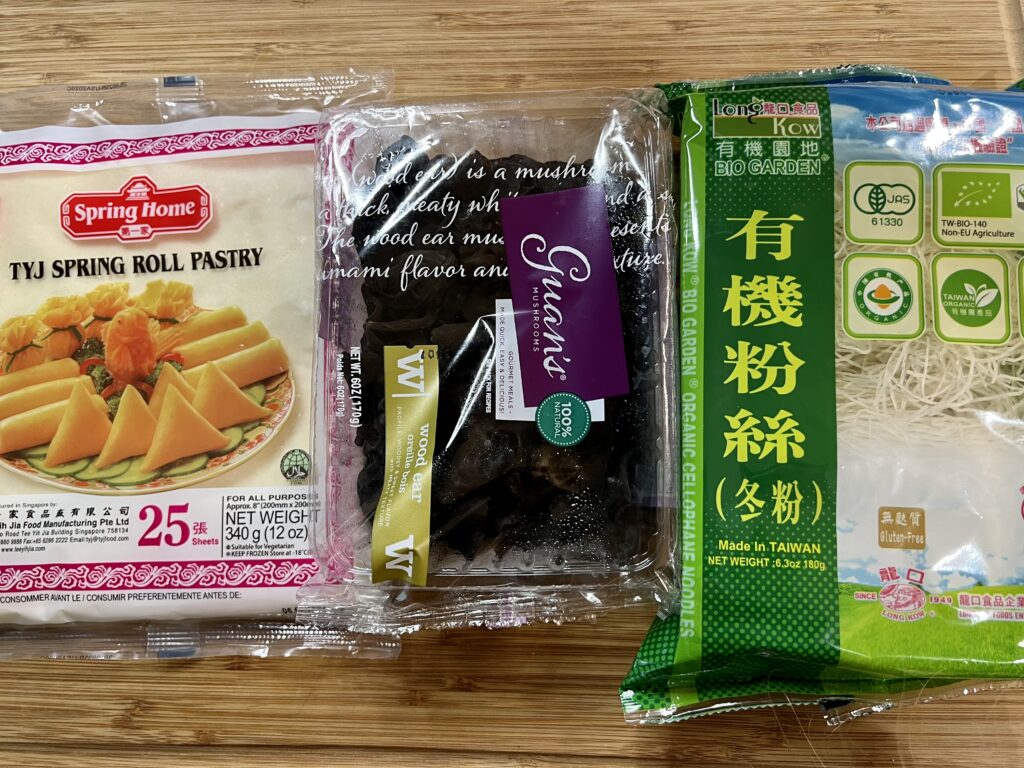 Serve these with nuoc mam as a dipping sauce. You can wrap these in green lettuce, cucumbers, and pickled veggies or you can put all of these ingredients in rice paper and turn it into a spring roll. It's so good this way. The chewy tapioca rice paper and the crunch of the roll combined with the fresh veggies… all dipped into the sauce. DELICIOUS!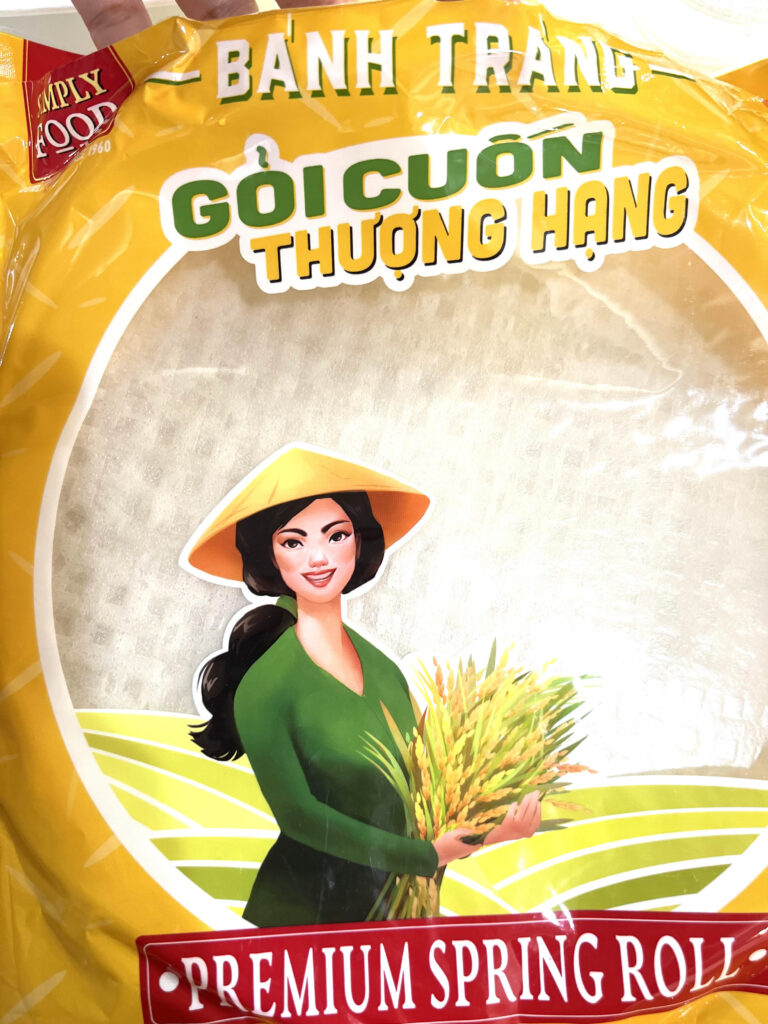 When you look for rice paper, choose the one with tapioca as one of the ingredients if you like it chewy as I do! The one above is my current favorite from Sayweee.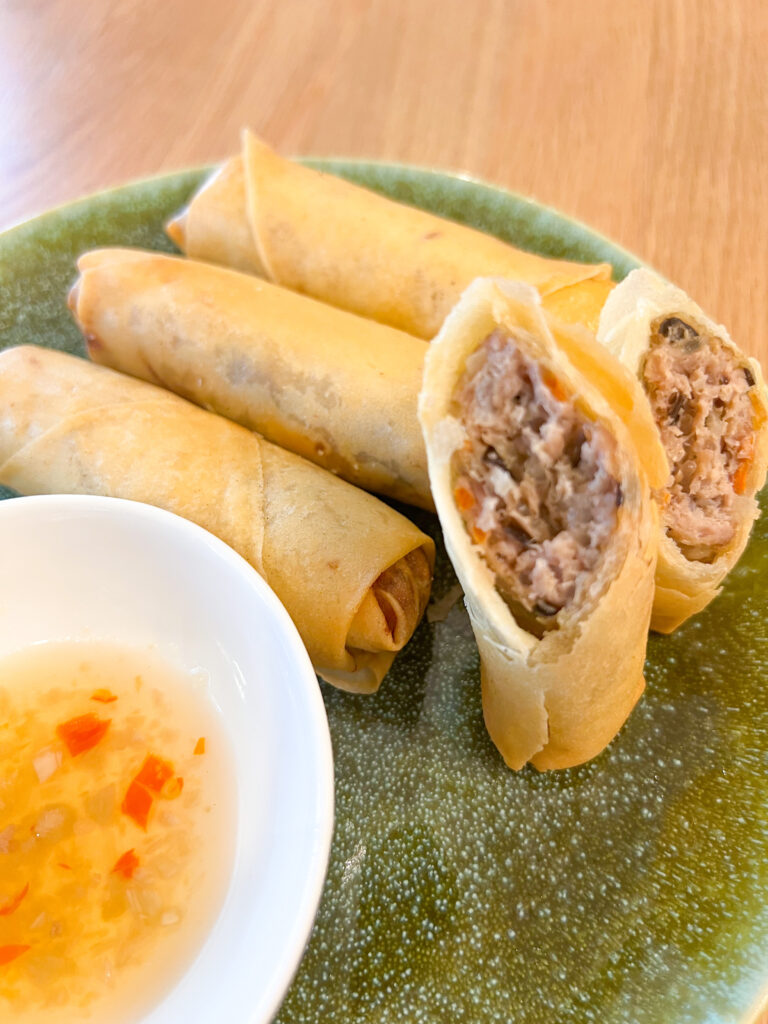 Vietnamese Egg Rolls
Description
This is my mom's recipe for the Vietnamese egg rolls that filled my childhood. They're crispy and filled with savory pork, mushrooms, carrots, and bean thread noodles. Serve them with Vietnamese dipping sauce (nuoc mam).
Instructions
Combine pork with all the ingredients. Be sure the noodles, carrots, and mushrooms are pretty dry, so the egg rolls can achieve maximum crispness. Cook a tiny piece to taste for seasoning and adjust!
Peel apart all the wrappers gently. Place a moist paper towel on top, so they don't dry out.
Place a small amount of filling on the corner of the wrapper. Spread it apart evenly. Be sure not to use too much filling. The wrapper should go all the way around the roll TWICE for max crisp (can you tell this is very important to me? haha) If you can see the pork through the wrapper, then that area won't get as crispy.
Fold the bottom corner up over the filling, fold the side corners in, then tightly roll it all the way up and seal the top corner with some egg wash. Repeat
DEEP FRY at 350F for 8 minutes to ensure the pork gets cooked. Oil should be filled only 1/4 of the pot.
AIR FRY 350 for 12-14 minutes, brush on oil beforehand, and midway.
Serve them with Vietnamese dipping sauce (nuoc mam). You can also wrap them in rice paper, lettuce, cucumbers, and picked veggies (optional) and eat them like a spring roll! SOOO GOOD!
Video
egg rolls, vietnamese egg rolls, crispy spring rolls, air-fried egg rolls, air-fried spring rolls