Vietnamese Chicken Curry (cari) is a brothy curry with tender chicken, potatoes, and carrots. This chicken curry is delicious with Vietnamese-style French baguette.
There are so many different curries available, and I think they are all delicious! Vietnamese chicken curry (cari) is different than Thai curry because it's a little less rich and less sweet. I would say it's most similar to Indian yellow curry as I believe that's the origin of this Vietnamese dish.
In regards to the vegetables used, this recipe calls for russet potatoes and carrots, but you can also add in some sweet potatoes for variety!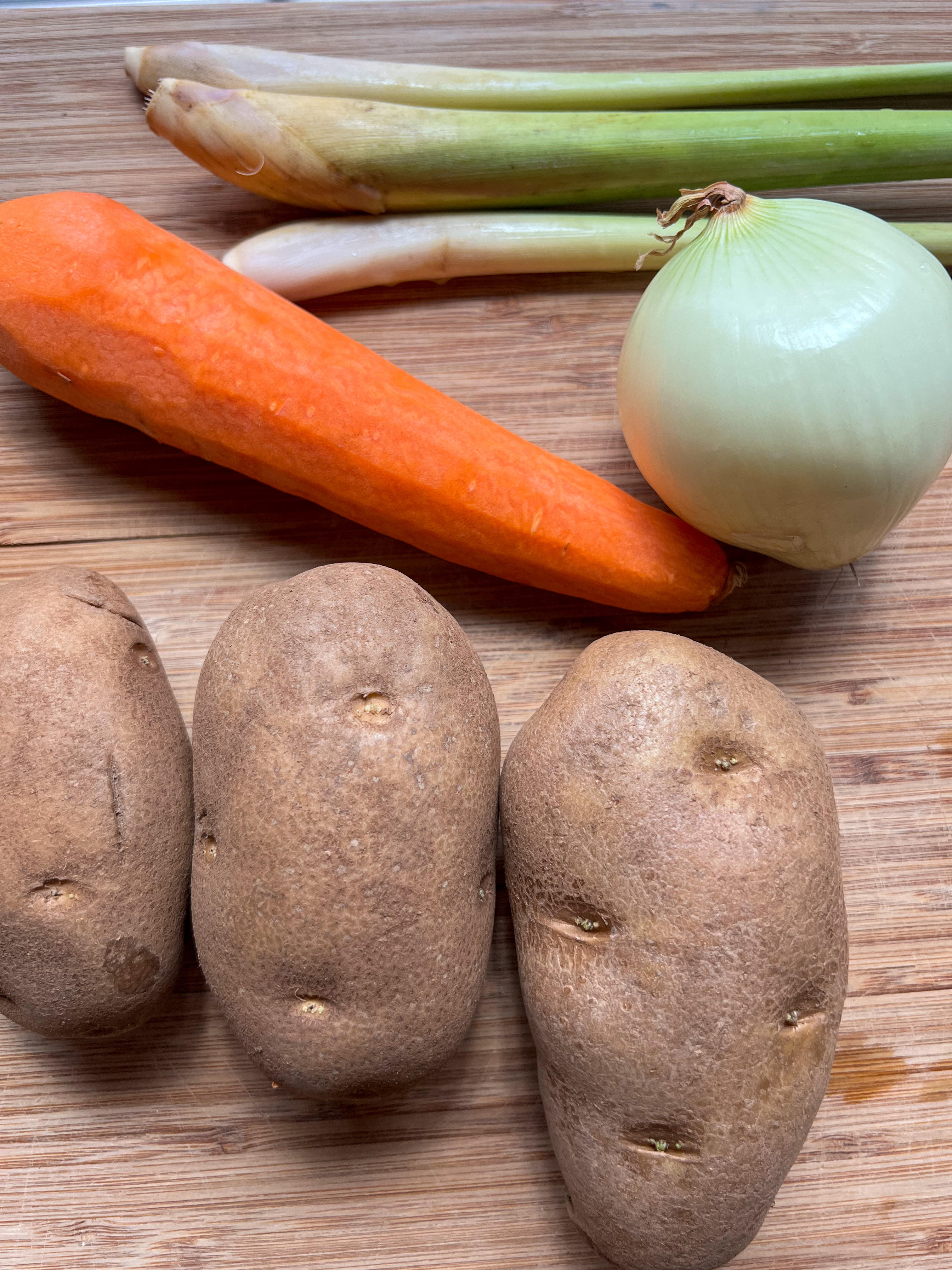 For this Vietnamese chicken curry, I recommend using bone-in chicken to get the most flavor. You can use just thighs, legs, or cut up an entire chicken. The bones will add weight to the broth, and the skin will release a little fat, which will color it beautifully. If you're not a fan of whole, bone-in chicken, you can substitute boneless thighs and cut them into bite-sized pieces to make it easier to eat.
You can eat this with toasted French bread, but I highly recommend searching for Vietnamese-style French baguette. It has a nice crackling crust with the softest, airy, and fluffy interior that makes it ideal for soaking up the delicious broth. You can find it at a Vietnamese grocery store or ask for plain banh mi at your local pho restaurant.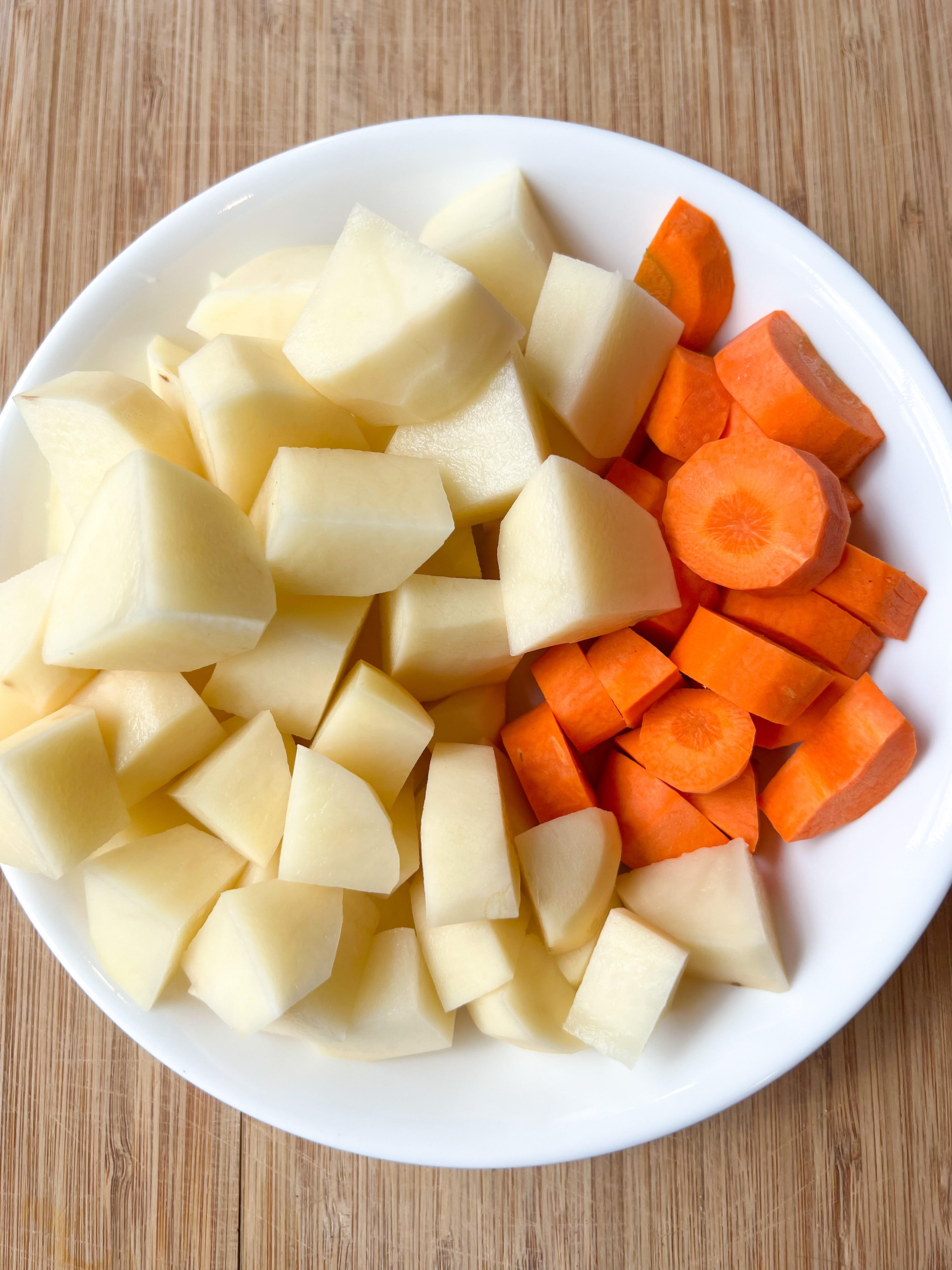 WHAT'S IN THIS VIETNAMESE CHICKEN CURRY RECIPE?
This dish is bursting with savory flavor and has just the right amount of richness. You'll be amazed at how simple and inexpensive the ingredients are, and you'll be pleased with the results.
Here is everything you'll need:
chicken legs (or whole chicken, cut)
salt
garlic powder
onion powder
black pepper
russet potatoes
carrots
onion
Jus garlic or minced fresh garlic
lemongrass
crushed red pepper
sugar
canned coconut milk
water
canola oil
Toasted Vietnamese French baguette (from a Vietnamese grocery store or pho restaurants)
---
More Vietnamese Recipes:
BANH CANH – A DELICIOUS PORK NOODLE SOUP WITH CHEWY NOODLES
BUN THIT NUONG – "GRILLED" LEMONGRASS PORK WITH VERMICELLI NOODLES
CHA GIO – CRISPY PORK EGG ROLLS SERVED WITH NUOC MAM
---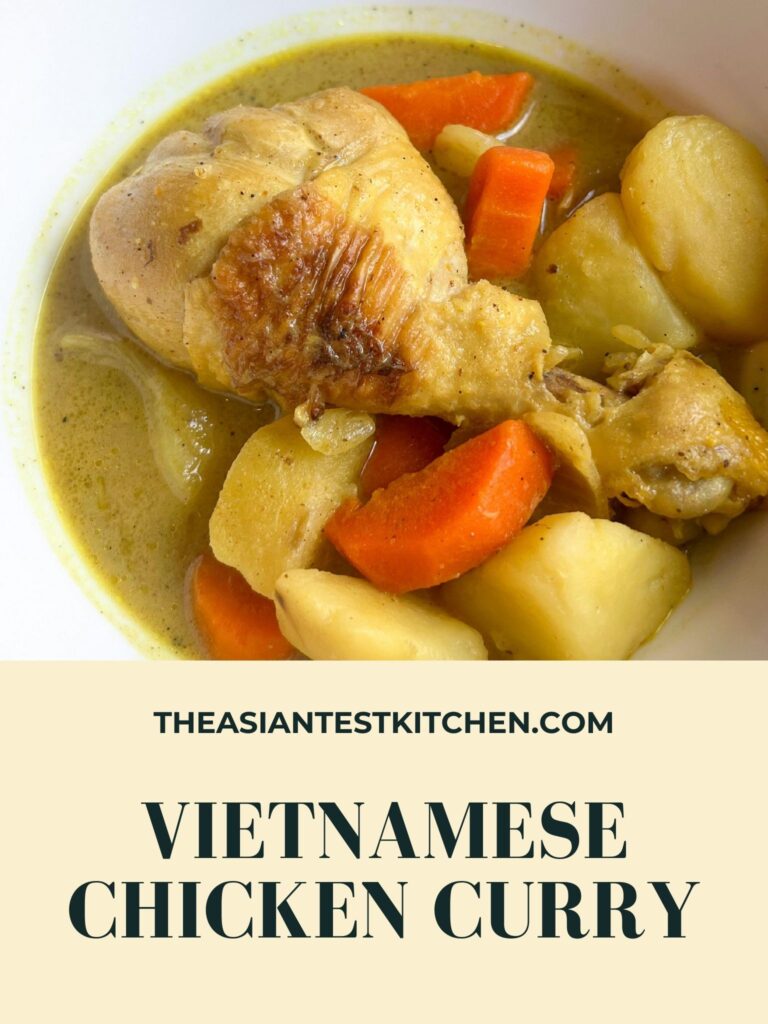 Vietnamese Chicken Curry
Description
Vietnamese Chicken Curry is a rich curry with tender chicken and potatoes, and carrots. This chicken curry is delicious!
Ingredients
Vegetables

Aromatics

Soup

Serve
Instructions
Season the chicken legs and let them sit while you prepare the other ingredients.
Heat pot on medium heat for 1 minute, add oil, sauté carrots, and potatoes and brown them slightly. Add a pinch of salt and pepper to season. Remove them from the pot. 
Add oil and sear chicken for 1-2 minutes on each side. Remove them from the pot. Scrape and discard any black residue on the bottom of the pot. 
Add oil and sauté onions and lemongrass with 1 tbsp curry powder. You can add chilies or crushed red pepper here for spice!
Add water, chicken, veggies, and then turn the heat up to high. 
Add chicken bouillon and sugar and bring to a boil.
Add coconut milk and lower to medium-low to continue cooking the chicken for another 15 minutes. Scoop out & discard lemongrass before serving.
Season with fish sauce and/or salt.
Serve with Vietnamese baguette (you can buy it from the Viet grocery store or most pho restaurants) 
Video
Vietnamese chicken curry, cari, curry