Ca Kho – braised catfish is seasoned and then braised in a caramel sauce and coconut water for a tender and flavorful dish. It is typically served with white rice. This is a Vietnamese recipe that will have you craving more. It's an easy weeknight dish that's perfect for busy families, and it comes together quickly. The fish is tender and flavorful, and it pairs well with a variety of vegetables.
Vietnamese food is incredible and can be made cheap with many common ingredients such as rice and fish sauce. It's one of my son's favorite dishes, and he normally doesn't like fish! Ca Kho can be made with different kinds of fish. However, the most popular option is catfish.
At its base ingredients, this recipe requires simple ingredients that are easy to find: fish sauce, garlic, sugar, coconut water, and onions. After these ingredients have been added to the dish, it takes only an hour to cook, but when done correctly is flavorful, easy to make, and very satisfying.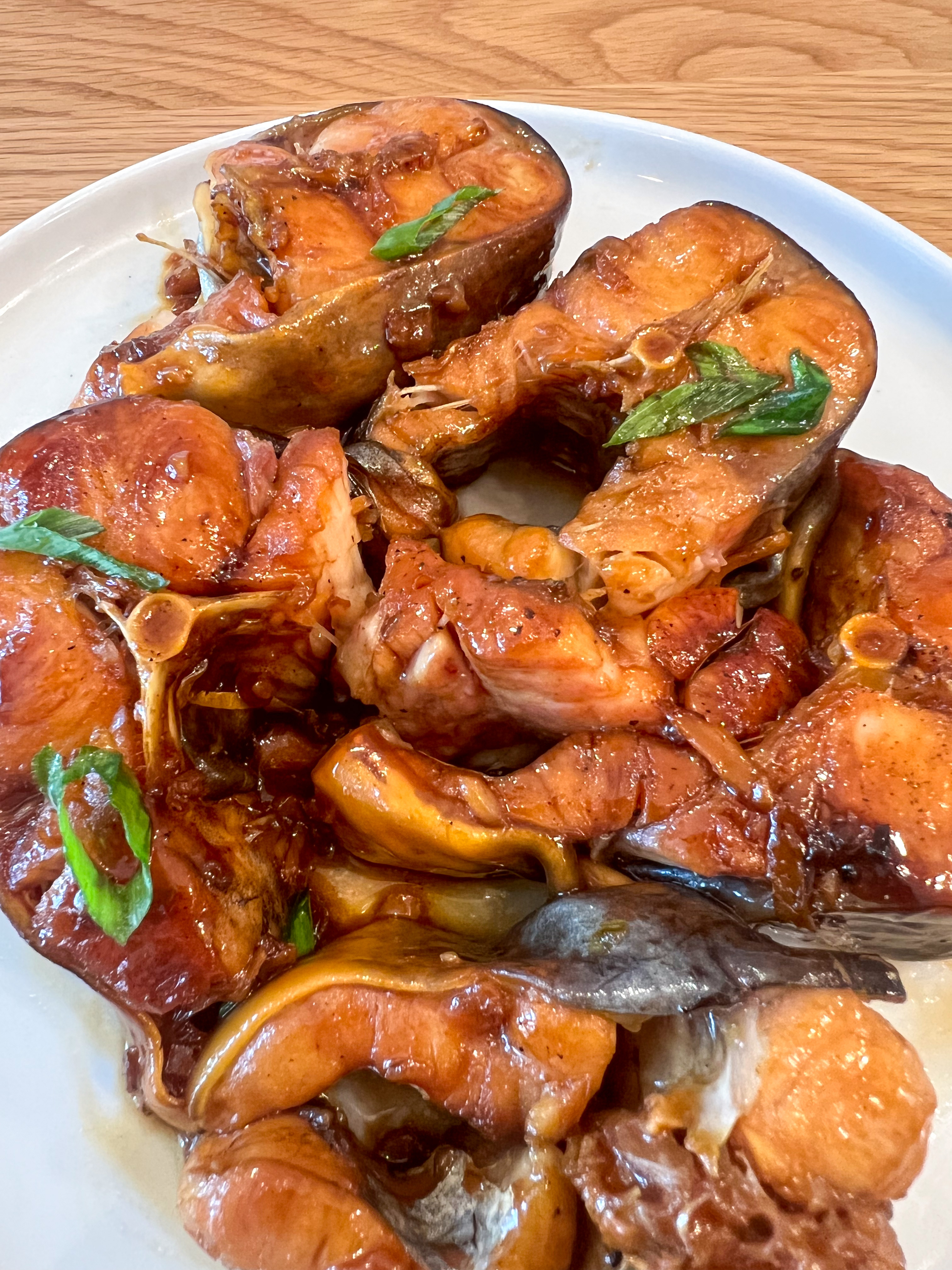 IMPORTANT NOTE:
Be careful when eating catfish steaks as there are a lot of bones! Be extra careful when feeding young children. I will separate each small piece and comb through them until it's almost mashed before serving it to my son. 🙂 He devours this dish and always asks me to make more!
Mushroom Seasoning
Mushroom seasoning or bouillon is a popular Asian food seasoning. It can be used in various dishes, such as stir-fries and soups. There are several different varieties of mushroom seasoning available on the market. I've linked the brand that I love and use above.
Mushroom seasoning can be found in most Asian grocery stores. The ingredients vary slightly depending on the brand but generally include salt, sugar, msg, and dehydrated mushroom.
Ca Kho – Vietnamese Braised Catfish 
Description
Ca Kho – braised catfish is seasoned and then braised in a caramel sauce and coconut water for a tender and flavorful dish. It is served with white rice.
Ingredients
Seasoning

Caramel

Braise

Garnish
Instructions
Clean catfish thoroughly – be careful rubbing the fish as the bones can be sharp!!

Sprinkle catfish generously with kosher salt. Rub it all over the flesh and skin, but be careful of the bones because they can be sharp!! Rinse the catfish with water and rub off the salt. 
Drain the fish and pat dry. Season the catfish and let it sit while you prepare the other ingredients. 

Make the caramel – watch carefully as it can go from caramel (burgundy) to burnt quickly 

Heat large pan on medium heat for 1 minute. Add sugar on one side of the pan, and then pour water on top of the sugar. If the sugar browns unevenly, you can stir the sugar. Once it starts to brown, add oil in an empty spot and sauté the ginger for a few seconds and then add the garlic. Add optional chili peppers here. Cook until fragrant and until the sugar turns a burgundy color. 
Add the coconut water, fish sauce, and sugar. Place catfish steaks into the pan, and carefully flip the steaks. 
Cover the pan and cook for 20 minutes (carefully flipping after 10 min). 
Uncover and turn the heat to medium-low. Spoon the sauce over the fish. Cook uncovered for the sauce to reduce (about 10 minutes). Taste and adjust.
Continue to spoon the sauce over the fish and watch carefully so the sauce doesn't reduce too much and start to burn!! 
Taste the sauce to adjust for seasoning (it should be really flavorful since it's served with plain rice). Also, keep in mind the seasoning gets more intense as the sauce reduces. 
Turn off the heat once the sauce and fish have developed a nice dark brown color. 
Sprinkle on some ground black pepper and green onions. Serve with rice. 
Video
Notes
Be careful when eating catfish steaks as there are a lot of bones! Be extra careful when feeding young children. I will separate each small piece and comb through them until it's almost mashed before serving it to my son. 🙂 
ca kho, braised catfish, vietnamese braised catfish