This black pepper beef stir fry is a quick and easy dish and is a crowd-favorite! The flavor and tenderness of the beef strips make this recipe stand out.
Stir-fry is one of the simplest and most delicious weeknight dinner options! You can make it in minutes and it's usually topped with a mouthwatering sauce.
My homemade sauce elevates the classic black pepper beef stir fry by bringing out the best of both worlds in every bite.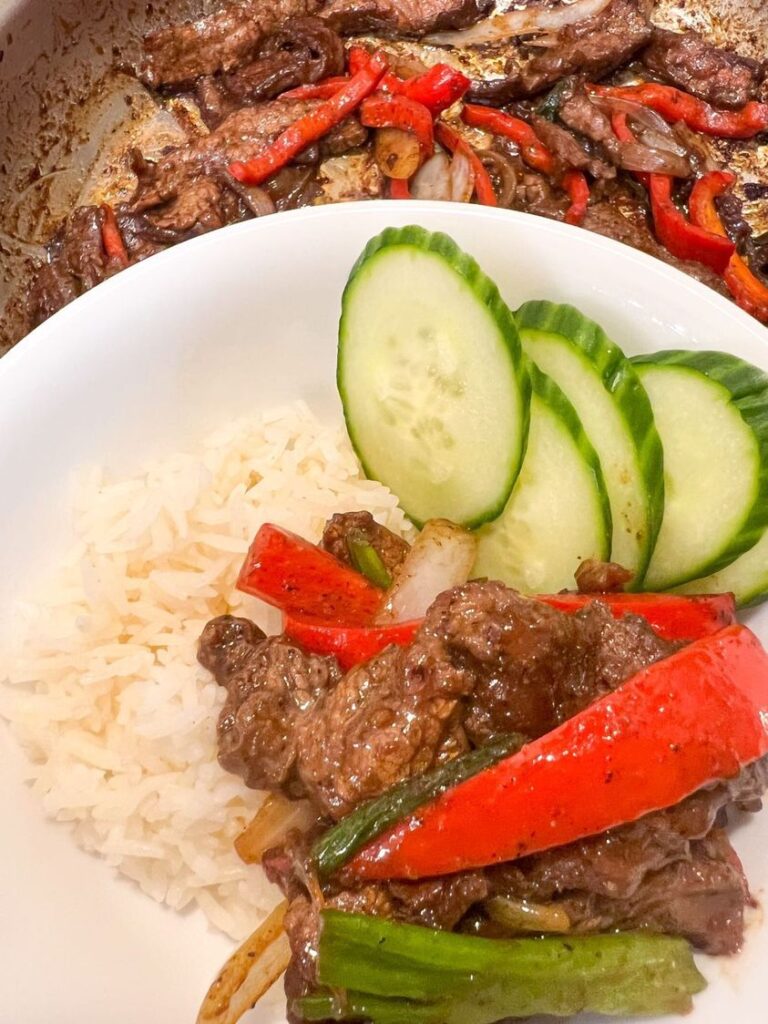 Marinating the meat in a mixture of cornstarch, baking soda, Shaoxing wine, and black soy sauce helps create a silky texture. Velveting is a Chinese cooking technique that involves marinating protein in cornstarch before adding it to stir-fries, soups, and stews.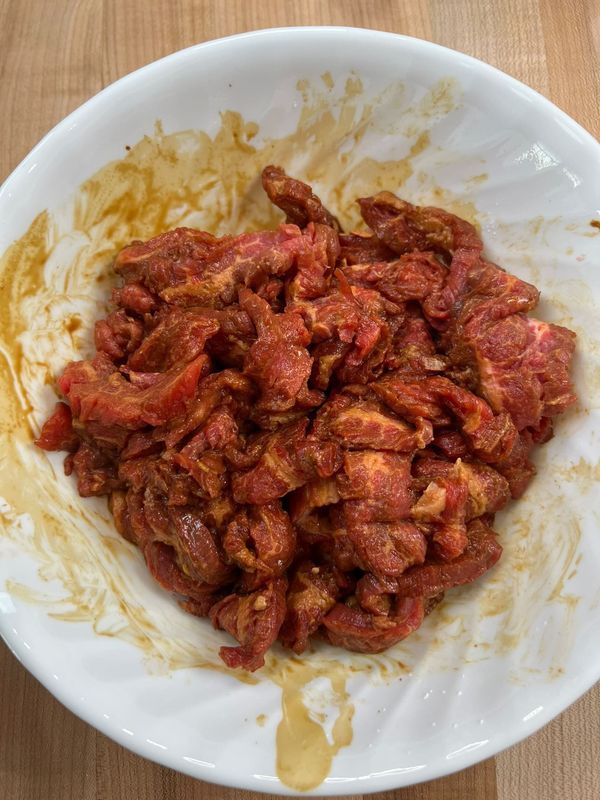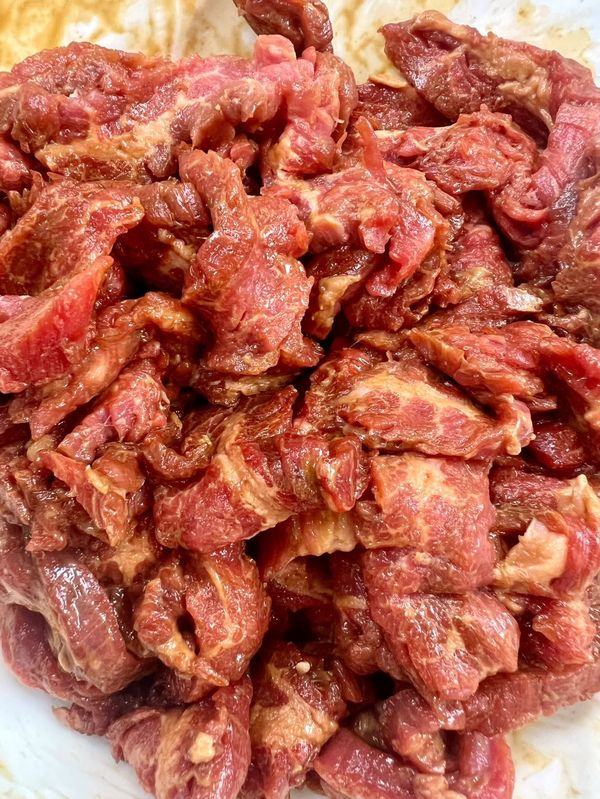 Using baking soda is also a great way to tenderize meat. Because the protein bonds are more difficult to form in the presence of baking soda, briefly marinating meat with baking soda will preserve it moist and soft when cooked.
A small amount of baking soda is safe to consume and does not need to be washed off the meat.
Ingredients
Beef – cuts of tender beef like sirloin and ribeye, as well as tenderloin and tenderloin strips, can be used, but I recommend flank.
Baking Soda – for tenderizing meat.
Cornstarch – helps create a velvety texture.
Peppers – any type of bell pepper will work. You can even use a mix of them if you want.
Onions
Shaoxing Wine – a type of Chinese rice wine. You can use dry sherry or mirin as substitutes.
Dark Soy Sauce – a thick, dark-colored soy sauce with a sweeter flavor than regular soy sauce. I recommend Pearl River Bridge.
Yellow Onion – any type of onion can be used, but I recommend yellow for the robust flavor.
Oyster Sauce – adds color and umami flavor to the dish. I recommend LKK Premium oyster sauce.
Black Bean Garlic Sauce – enhances the flavor of the sauce. I recommend LKK Black Bean Garlic Sauce.
Water – helps with the consistency of the sauce.
Sugar – helps round out the flavor.
Black Pepper – adds depth and a little spice to the dish.
Toasted Sesame Oil – adds aroma and a nutty flavor. I recommend Ottogi Premium Sesame Seed Oil.
Frequently Asked Questions
Do I need a wok to make this?
While a wok is a great tool to make stir fry dishes, you don't have to use one if you don't have one. Your favorite skillet will work just as well.
Do I have to use baking soda?
You don't need to use baking soda in this dish if you don't want to. It won't affect the flavor of the dish if you skip it. However, the meat won't have that soft and chewy texture without it.
Can I use regular soy sauce instead of dark soy sauce?
Yes, you can. Your dish will be lighter in color, and there is a slight difference in flavor between dark and regular soy sauce. Nevertheless, it will still taste good!
---
More Easy Recipes:
Air-fried Vietnamese wings– you'll never believe they were air-fried!
Air-fried sesame chicken – It's better than takeout!
Shaking Beef – very popular Vietnamese beef cube stir-fry
---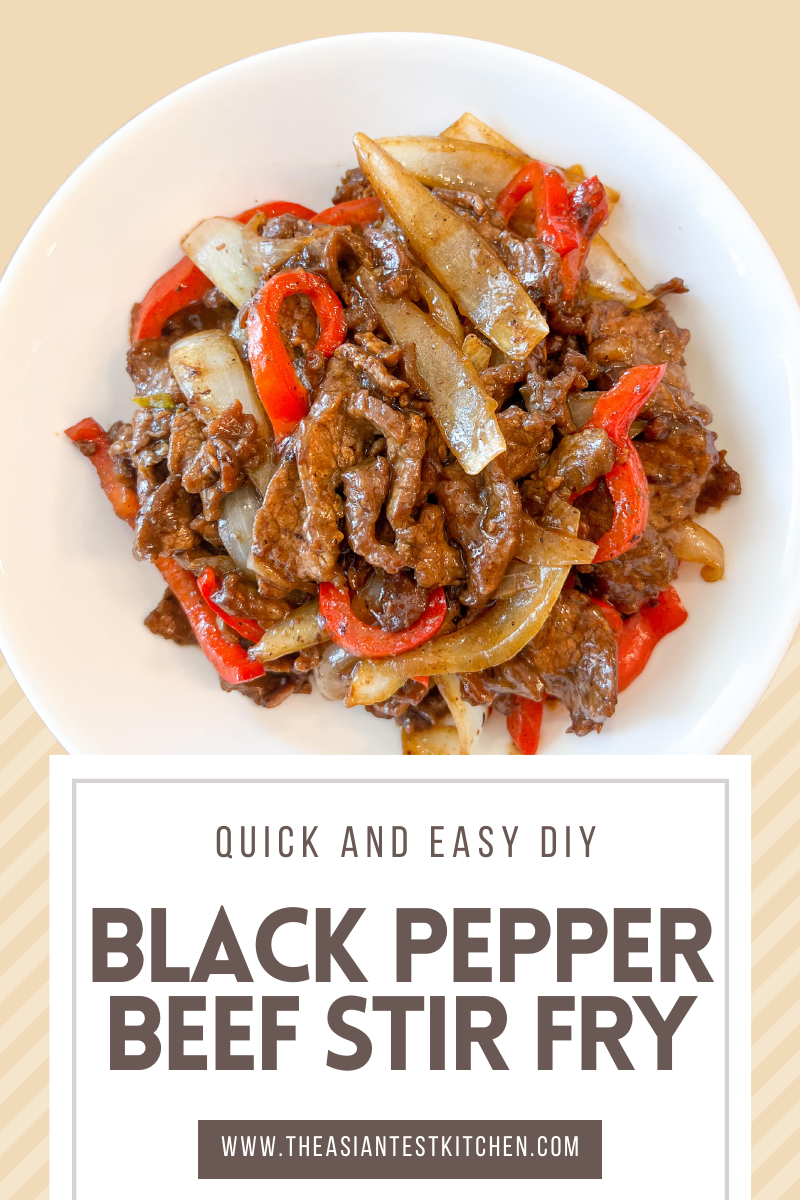 Black Pepper Beef Stir Fry
Description
Whenever I'm looking for a quick and simple meal for a busy weeknight, I turn to this recipe. I love how easy it is to make and how delicious the results are every time! Serve it with a side of Garlic Shrimp Fried Rice for a satisfying dinner!
Ingredients

Marinade

Stir Fry

Sauce

To Serve
Instructions
Mix Shaoxing wine, corn starch, and dark soy sauce in a large bowl. Marinate beef in the mixture to tenderize while preparing other ingredients (15 minutes) 
Mix ingredients for the sauce in a small bowl and set aside 
Heat large pan on medium-high heat for 1 minute, add oil, swirl to coat, wait for 30 seconds, add beef. Sear beef on one side for 2-3 minutes before stirring to cook the other side. Remove beef from the pan.
Turn heat down to medium. Add oil if needed, add onions and bell pepper. Cook and stir for 2 minutes
Add the sauce and give it a mix. Add back the beef. Drizzle on some toasted sesame oil. Serve with white rice. 
Video
black pepper beef, stir-fry, chinese food, black pepper beef stir-fry