Grilled Korean Short Ribs are packed with umami! They're sweet, savory, fatty, and nutty! It goes really well with rice and kimchi. If you don't have kimchi, you can eat it with other pickled veggies to balance out the flavor of the short ribs.
I'm using an indoor Ninja grill today, but you can also use your outdoor grill or air fry them. I'll include instructions for air-frying below.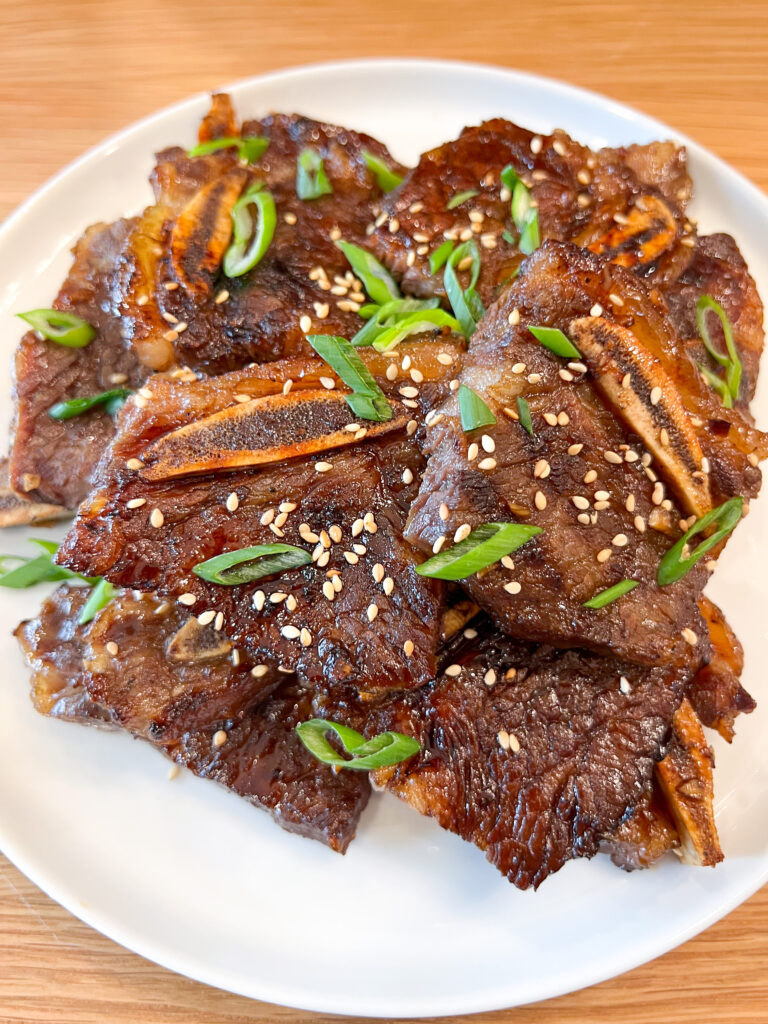 Grilled Korean Short Ribs
Description
Sweet, savory, nutty, and fatty ribs are marinated overnight and then grilled to perfection. I like mine slightly undercooked, so you can adjust cooking time depending on how you like your meat.
Ingredients
Marinade

To serve (optional):
Instructions
Mix all ingredients for marinade by hand or use a blender
Toss ribs in marinade evenly. Store in a marinating bag and refrigerate overnight. If not using a bag, then you'll need to toss the ribs again after a few hours to ensure the sauce is evenly distributed.
On Ninja Foodi Indoor Grill, select GRILL, set temp to HIGH, close hood, and press the dial to begin pre-heating (10 minutes). Cook in two batches. Grill the first side for 3 minutes with the hood down. Open the hood, flip the ribs over, close the hood, and cook for another 2 minutes. Cook the second batch.
Plate the ribs, top with green onions, toasted sesame seeds, and serve with rice & kimchi

To air-fry, cook for 5 minutes at 325F and then 3-4 minutes at 400F to add some char.
Video
Korean ribs, kalbi, galbi, korean short ribs, la style ribs