Crispy shrimp balls are one of the most popular dishes at a Vietnamese wedding! When we see the servers come out with these or the cheesy lobster, our eyes light up, and we migrate from the open bar to our designated tables. 🙂
They're actually not too difficult to make either. You can make the shrimp filling by hand or just throw everything into a food processor, and voila! There are several options for coating it. This time, I made it with Spring Home spring roll wrappers for the extra crunch. They're the same wrappers I use to make Vietnamese egg rolls. You can order these from Sayweee! I also made some air-fried ones with Japanese panko breadcrumbs. I'll share that at a later date.
You can serve these crispy shrimp balls with Thai sweet chili dipping sauce or soy sauce and chili oil.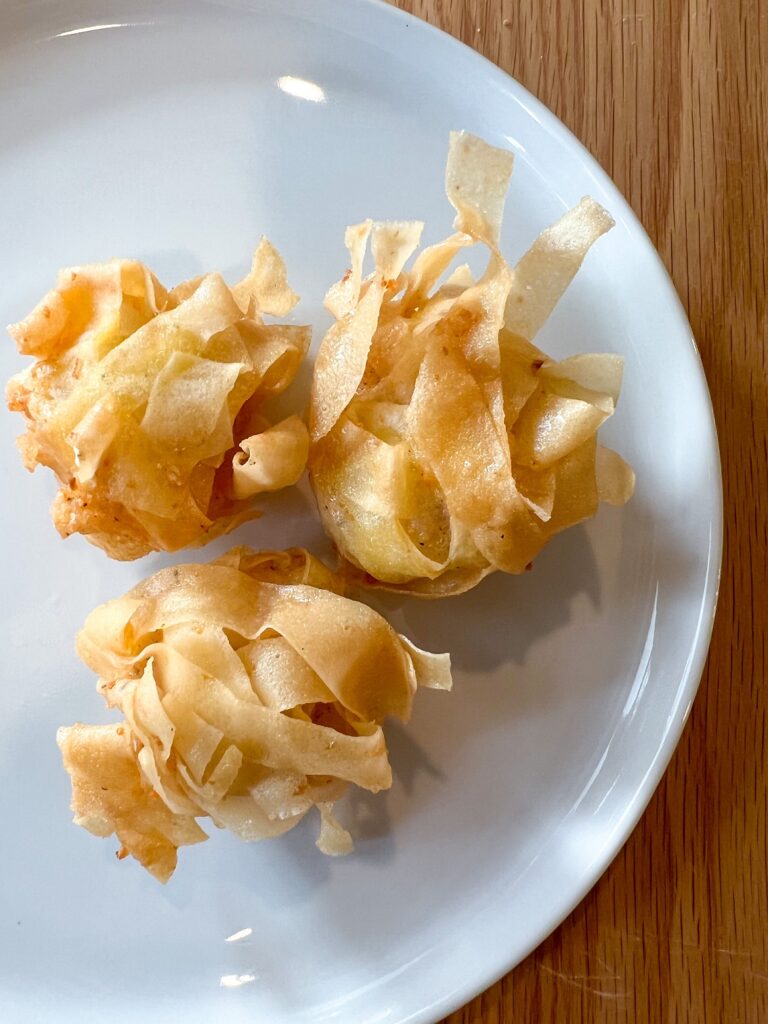 Crispy Shrimp Balls
Description
Crispy shrimp balls are made of savory shrimp filling, coated in spring roll wrappers, and deep-fried for that extra crunch!
Instructions
Be sure shrimp has been patted dry. Combine everything for the filling into a food processor and pulse to form it into a smooth paste. You can also use a knife to cut the shrimp until it forms into a paste, and then mix the rest of the ingredients together. It will be wet, so place the filling in the fridge for 15 minutes to make it easier to work with. 
Pre-heat oil in a small heavy bottom pot to 350F. Do not fill over 1/4 of the way, and use a deep-fry thermometer.
Peel spring roll wrappers, cut them in half, then fold them in half lengthwise, and cut them into strips. See video.
Roll shrimp filling into 12 balls. Dip them in egg wash and place each one on top of the strips and cover the ball. This can get messy, and that's okay. They don't have to be perfect.
Fry them in small batches until they're crispy and golden. It can take between 3-5 minutes. Place on paper towel-lined plate. Serve with sweet chili sauce.
Video
crispy shrimp balls, shrimp balls, vietnamese wedding food