Kimchi pancakes are crispy on the outside, doughy in the inside and packed full of flavor.
While these pancakes are super simple to make, they can take a couple of tries before you nail down the correct temperature and cooking time! Don't give up!
The combo of cornstarch and all-purpose will give a crispy exterior with a slightly soft and doughy interior, so don't just use one or the other.
There are a few things that will help you get crispy pancakes. 1) Using ice cold water can help inhibit gluten development when using all-purpose flour. 2) Adding corn starch to the batter 3) Don't overmix the batter. 4) Using the right temperature to cook (between medium and med-high). The temperature will require you to play around with. 5) Cook small pancakes so the temperature doesn't stop drastically!
If the first couple don't get crispy, just add them back to the pan after you finish the others for a second shallow fry!
Here are some troubleshooting tips that will help you along the way!
Pancake burns before getting crispy? Lower the heat just a tad and try again.
Pancake isn't crispy after 3+ minutes? Turn the heat up just a tad. Remember to also make the pancakes SMALL so the temp of the oil doesn't drop too drastically.
Not crispy in the center? Turn up the heat just a bit. Flip the pancake back over and cook for 30+ seconds.
Other side dishes:
Korean Cucumber Salad: Persian cucumbers combined with sesame oil, soy sauce, gochugaru, vinegar, white sugar and minced garlic!
Korean-style broccoli: Broccoli with addicting Korean style sauce!
Air-Fried Crispy Green Beans: Crispy green beans paired with wasabi sauce.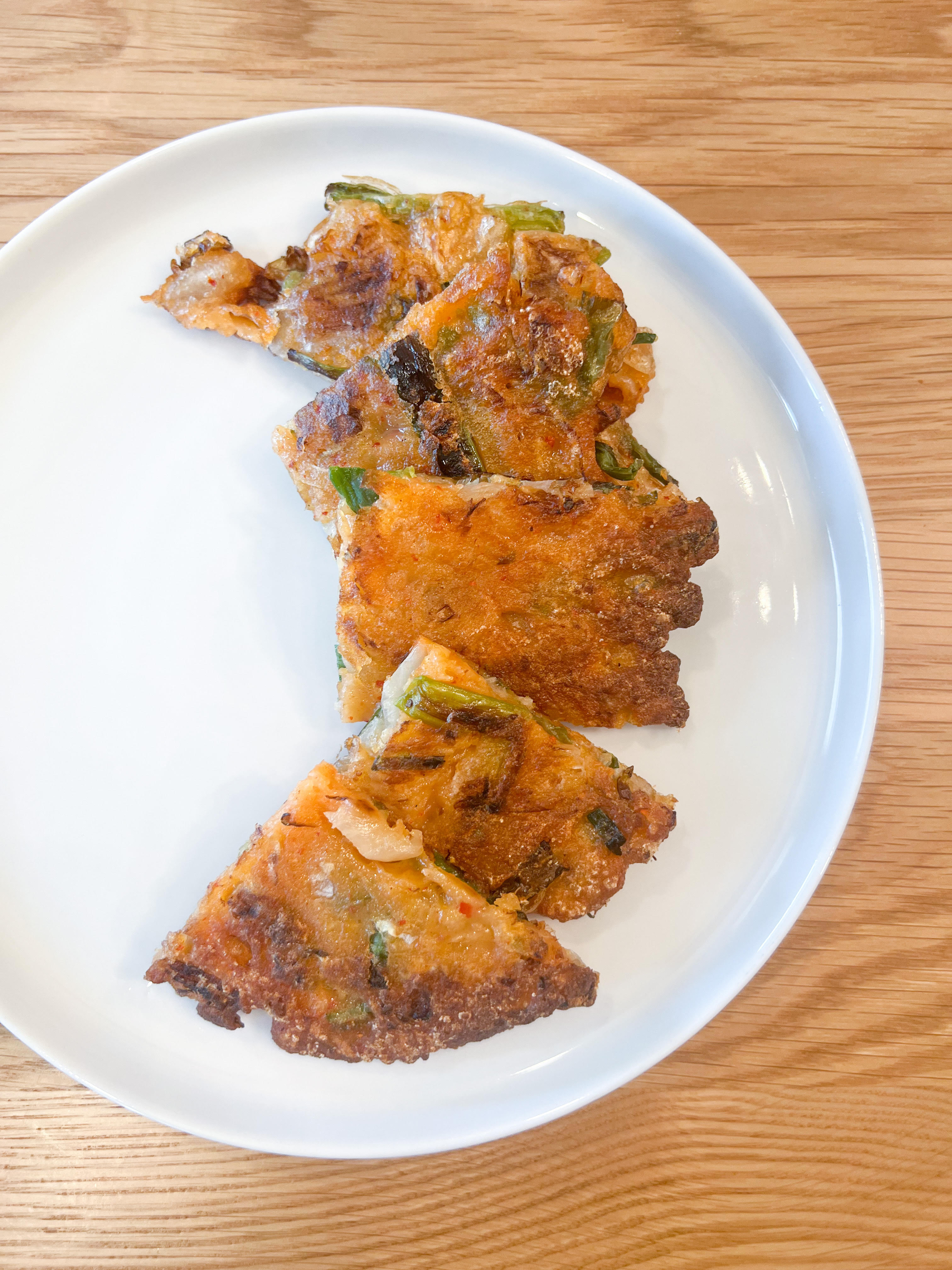 Kimchi Pancakes
Description
Kimchi pancakes are crispy on the outside, doughy in the inside and packed full of flavor. 
Instructions
Heat pan on medium heat with oil for 45 seconds or until oil bubbles when you stick a chopstick in it. 
Carefully spoon batter into the pan to make a small pancake. Use a spoon or spatula to shape it. Keep the pancakes small so it doesn't lower the temperature of the oil too drastically. If the temp drops too quickly, it will prevent the batter from crisping up. 
Cook for about 2 minutes on each side or until it gets crispy. It might take longer on the first side as the oil temp is still rising and a little less for the second side and next few pancakes. 
Video
Kimchi pancakes, korean side dish, korean food